U.S. Government and ADB Partner to Expand Asia's Sustainable Energy Market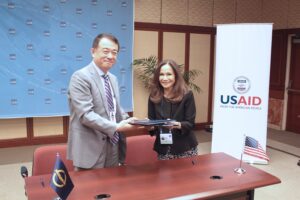 Manila, June 18, 2019 — The U.S. government launched a partnership with the Asian Development Bank (ADB) June 18 to accelerate the transition to a sustainable, secure, and market-driven energy sector in Asia.  U.S. Agency for International Development (USAID) Asia Bureau Acting Assistant Administrator Gloria Steele and ADB Strategy, Policy, and Review Department Director General Tomoyuki Kimura signed the partnership agreement at the Asia Clean Energy Forum in Manila.
Under the agreement, USAID and ADB will mobilize $7 billion of investment for energy projects in Asia, boost the capacity of deployed energy systems by six gigawatts, and increase regional energy trade by 10 percent over the next five years.  The agreement will promote energy efficiency, energy sector reform, and good governance of Asia's energy sector.
This new partnership follows decades of development collaboration between the U.S. government and ADB and is part of Asia Enhancing Development and Growth through Energy (Asia EDGE), a key initiative contributing to the U.S. government's Indo-Pacific Strategy.  The Asia EDGE initiative is a U.S. whole-of-government effort to grow sustainable and secure energy markets throughout the Indo-Pacific.  Asia EDGE seeks to strengthen energy security, increase energy diversification and trade, and expand energy access across the region by drawing on the expertise and resources of the U.S. government, private sector, and international financial institutions and partnering with like-minded stakeholders to advance the rules-based economic order that has lifted billions out of poverty and enabled unprecedented growth over the past 70 years.
---
About USAID
USAID is the lead U.S. government agency for international development and disaster assistance.  In the Philippines, USAID partners with the national government to build a more stable, prosperous, and well-governed nation.  For more information, visit https://www.usaid.gov/philippines or email infoph@usaid.gov.